When the heat waves hit, and summer is persistently making the sun an enemy, people often look to find pools and other water-based activities to stay cool. What if you're in the middle of a busy city? Madrid is the capital of Spain, and one of the largest cities by population. It's also one of the hottest, so finding a nice cool pool under brutal heat is a must around summertime.
In today's article, we take a look at some of the best indoor and outdoor pools and natural lakes you can visit in Madrid to help ease the heat and to have a good day out with your family or friends. 
What are the best Pools in Madrid City Centre?
Riosequillo Reservoir 
Although not officially a "pool", one of Madrid's main water supplies is the Riosequillo Reservoir. This reservoir is not only a water supply but also has marked areas and park features that allow you to take yourself, friends or family to have a picnic as well as go for a nice swim in Madrid's biggest man-made lake. This pool stretches over 20 miles (technically) and can be used by anyone in the public, so why not have a visit and take a dip!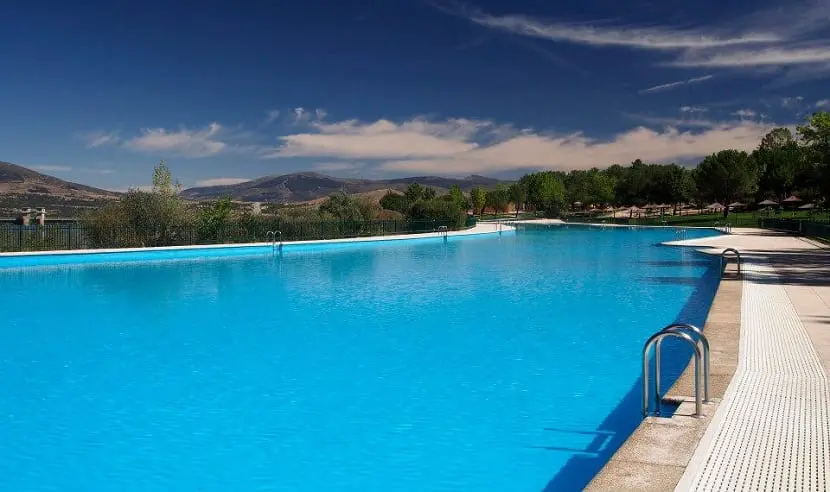 Las Dehesas
This is another pool that you can visit, but it's much more than a pool. Las Dehesas is actually a massive park with plenty of walks, and picnic places. However, as soon as you enter the gates to the park – you'll notice the massive stream and pool which stretches across a large area. Although nothing special, this pool is both cost-effective and surrounded by nice walks and picnic areas so is ideal for the family! Although slightly away from Madrid city centre, this is still an amazing place to visit if you want to go for a swim in the city of Madrid.
Another outdoor sports park, but on a much larger scale is Puerta de Hierro Sports Park. Much more than just a pool, the sports park has several amazing activities that you can participate in to get more out of your time in Madrid City centre. Not to mention the massive pool they have in the middle of the park, which allows guests to cool off and go for a fun and relaxing swim.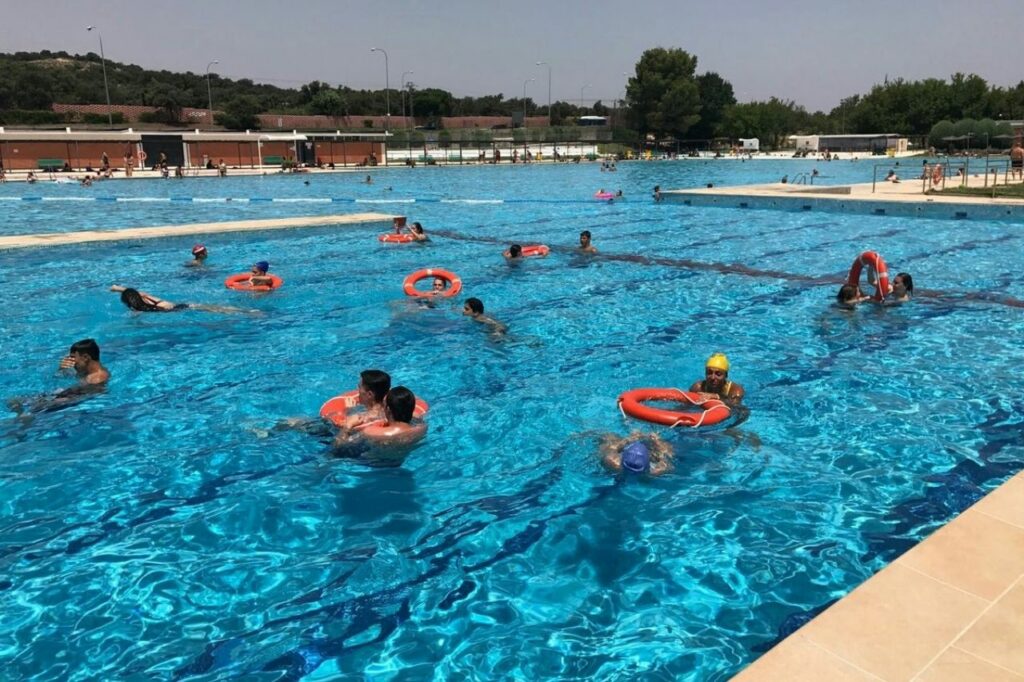 Universidad Complutense de Madrid 
Universidad Complutense de Madrid is an official university campus, with an amazing outdoor, Olympic size pool. It is open to the public outside of school hours, offering flexibility during weekdays. This pool is well-maintained and has amazing wildlife and parks, in the dead centre of Madrid. This pool is not only amazing to look at, but would be an amazing swim and dip in a heatwave!
Pool Bahia Madrid
Pool Bahia is one of the highest-rated pools in Madrid, with several indoor and thankfully air-conditioned pools, making it a busy attraction during those scorching hot days. Although one of the smallest pools on this list, the indoor pool does help take the heat away from the day and is located in the heart of Madrid, making it an ideal spot to visit if you're feeling the effects of the heat.

If you are looking for more of a fashionable cool-off, Madrid has started buzzing with amazing rooftop pools that will make you feel like you are on a holiday. There are a few rooftop pools in Madrid worth mentioning.
Westin Palace Madrid
The first is the rooftop pool at the Westin Palace Madrid, it is one of the most popular in the city. It's located on the roof of the hotel and offers stunning views of the city. The pool is open to hotel guests and members of the public, and there's a bar and restaurant on-site for those who want to stay cool and enjoy a drink or meal. Admission is €35 for adults and €28 for children.
The rooftop pool at the ME Madrid Reina Victoria is located on Calle de Alcalá, 45. It's a popular spot in the city and can be quite crowded during the summer months, so that is something you need to consider. The pool itself is quite large and has great views of Madrid. It's open from 10am to 10pm and costs €15 to enter.
Another option is the rooftop pool at the Hotel Urban, which is located a few minutes away from Puerta del Sol. With its centric and unbeatable location, is a must-visit because it offers amazing views of Madrid. It is great to relax and sunbathe, and the pool is heated, making it a year round option.
The rooftop pool at the Hotel Urban is located on the top floor of the hotel and can be accessed from the 9th floor. Costs are €30 for adults and €15 for children.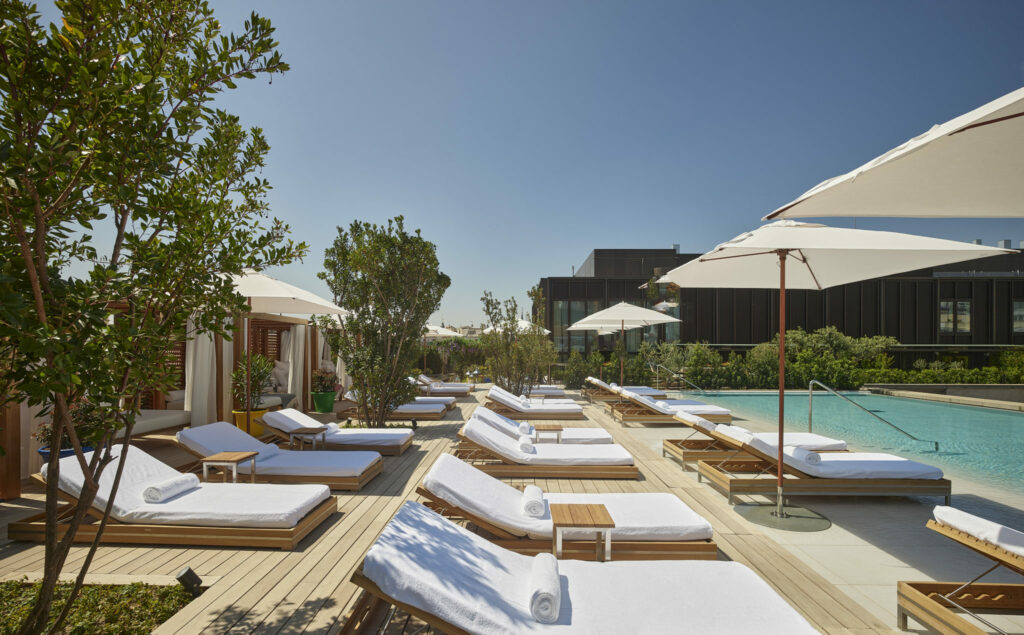 How hot can Madrid get in Summer?
Madrid is the capital of Spain, and people often associate Spain with beautiful food and amazing weather. Madrid is prone to getting massive thunderstorms, but for the most part – Madrid can reach 31° -36° on average during the summer months. In 2019, during June Madrid hit a record-breaking 40.7° making it one of the hottest days in Spanish history! 
Overall, going for a swim in Madrid seems a bit odd as the area is all high-rise buildings and amazing restaurants and shops, but we hope this list has a few pools and attractions that you can try out if you're struggling with dealing with the heat in Madrid, or just fancy a nice cool swim! 
Next time you are in Madrid, check our post about why Spain is so unique.