Amsterdam (or Ams) is a city that is well known for its sustainability and exciting atmosphere. There are many interesting things to do in Amsterdam, from visiting world-famous museums to eating at unique restaurants. Amsterdam also offers plenty of activities for visitors who want to get out and explore the city. Whether you're planning a trip to Amsterdam or are just curious about what makes this city so special, keep reading for an overview of the most interesting things Amsterdam has to offer!
What is Amsterdam doing regarding sustainability?
Ams is a very popular tourist destination, so it's a great example to the world of what they are doing to be sustainable. Amsterdam has been working hard towards that goal, and they have made great progress. One way they have done this is by investing in renewable energy, like solar and wind power. This will help them to reduce their reliance on fossil fuels, and it will also help to make the city more sustainable.
Amsterdam is also doing a lot to tackle climate change. One way they are doing this is by investing in electric transport. This will help to reduce greenhouse gas emissions, and it will also help to make the city more sustainable. Amsterdam is also working on making its buildings more energy efficient, and they are promoting sustainable practices like recycling and composting. All of these things will help Amsterdam to achieve their goal of being carbon neutral.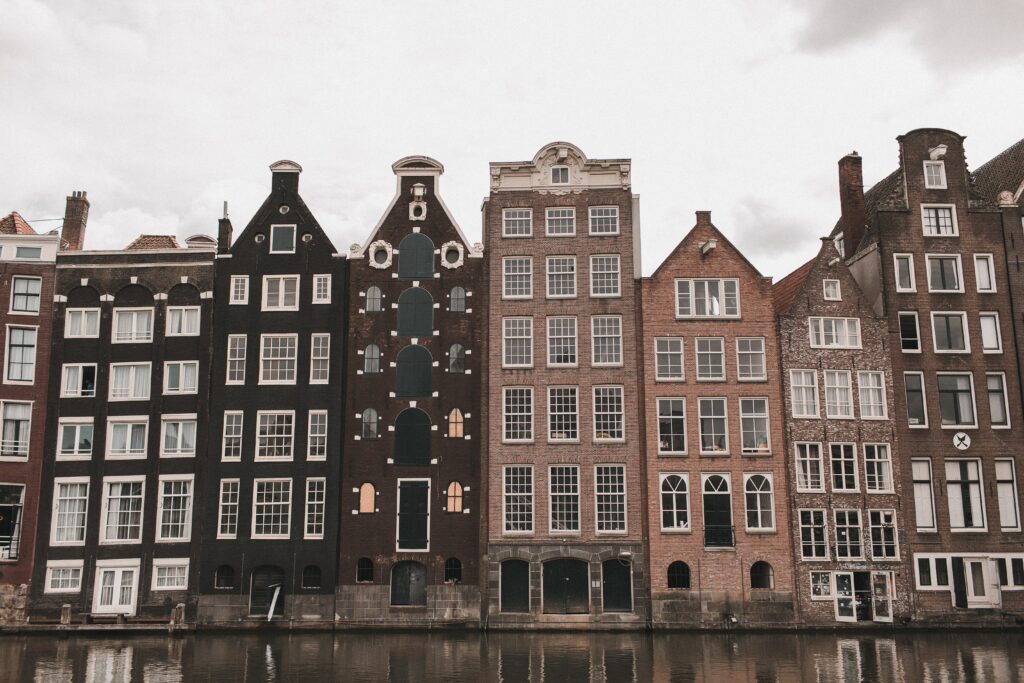 What to do?
Amsterdam is a great city for walking, and there are plenty of things to see and do. I recommend you take a look here to get some good ideas for walking tours. One of my favourite things to do is to explore the canals. Amsterdam has more than 100 kilometres of canals, and they are a great way to see the city. You can also take a boat tour, which is a great way to learn about Amsterdam's history and culture. I recently tried this one and I gotta say it was a great experience. The staff is lovely and amicable.
If you want to explore it by bike, there are plenty of places to rent them. Amsterdam is a great city for biking, and there are plenty of bike paths throughout the city.
There is a really great bike path that goes from Amsterdam to Utrecht. It's about 50 kilometres long, and it's a great way to see the countryside. The path goes through a lot of small villages, and it's a great way to experience Dutch culture. For that and more recommendations, check this site.
Ams is a great city to visit any time of the year, but I think the best time to visit is during the springtime when the flowers are in bloom.
Museums
Amsterdam is home to some of the world's most famous museums, including the Rijksmuseum and the Van Gogh Museum. The Rijksmuseum is the largest museum in Ams, and it contains a collection of art and historical artefacts from the Netherlands. The Van Gogh Museum is dedicated to the works of Vincent van Gogh, and it is one of the most popular museums in Ams. Amsterdam also has a number of smaller museums, including the Amsterdam Museum, which tells the story of Ams, and the Hash, Marihuana & Hemp Museum, which is dedicated to cannabis.
My particular favourite is the Moco museum. It is located on the Museumstraat in Ams. It opened in 2016 and is dedicated to contemporary art. The museum has changing exhibitions of art from around the world, including paintings, sculptures, installations, and photographs.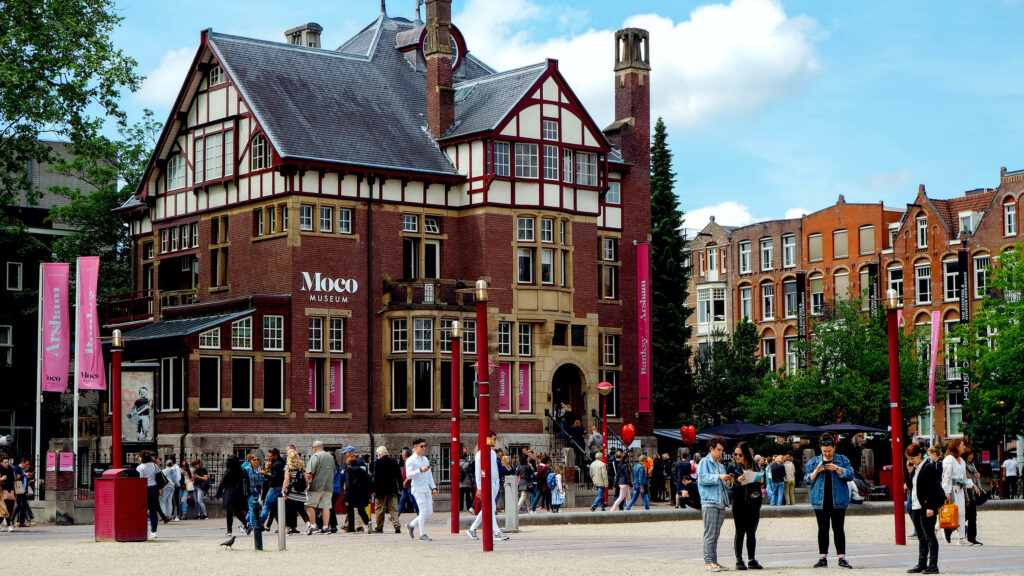 Parks
Amsterdam is home to a number of beautiful parks, including Vondelpark, Amsterdamse Bos, and Westerpark. Vondelpark is the most famous park in Amsterdam, and it covers over 47 hectares. The park is named after the 17th-century poet Joost van den Vondel, and it contains several attractions, including a children's playground, a rose garden, and a Japanese garden. Amsterdamse Bos is the largest park in Amsterdam, and it covers over 1,200 hectares. The park contains a petting zoo, a waterskiing lake, and an amusement park. Westerpark is the newest park in Amsterdam, and it covers over 34 hectares. The park offers several activities, including a cinema, a theatre as well as a diverse offering of restaurants and cafes around.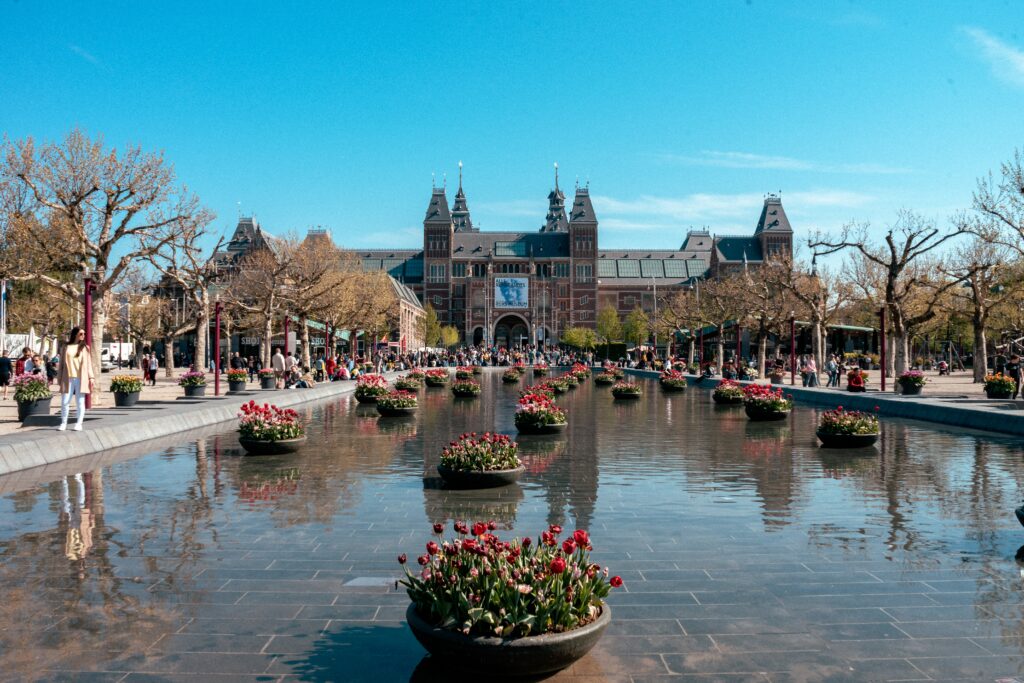 Food
There are a lot of great places to eat in Ams. The city is known for its Amsterdamse Nieuwe, which is a type of cuisine that is a fusion of Dutch and Indonesian cuisine. Some of the most famous Amsterdamse Nieuwe restaurants include the Blue Amsterdam, the Amsterdam Falafel Shop, and the Waterkant. Amsterdam is also home to a number of great seafood restaurants, including the IJscuypje and Scheepskameleon.
One of my favourite options is Cafe Winkel 43. This place has easily the best apple pie I've ever tasted, it is absolutely amazing. The rest of the menu is good, but the pie is definitely the crown jewel and worth the stop. You can totally plan a trip after or before visiting Ann Frank's house or taking a boat tour mentioned previously.
Another one of my recent favourites is The Avocado Show. This restaurant is dedicated to avocados (and this particular blogger loves avocados). The restaurant has a menu that is made up of avocado-based dishes, including salads, desserts, and cocktails. The restaurant is located on the Spuistraat in Amsterdam, and it is open from Monday to Friday from 8:00 am to 10:00 pm, and on Saturday and Sunday from 9:00 am to 10:00 pm. They source their avocados from sustainable farms that invest in their communities so that definitely gives them extra points.
Finally, the best cheese in town is here. The store sells a variety of Dutch cheeses, as well as cheese from other countries. It also offers cheese-tasting courses, and it is open from Monday to Saturday from 11:00 am to 18:00 pm. So if you're looking for some amazing cheese during your trip to Ams, this is the place to go!
Final words
Amsterdam is a beautiful city with a lot to offer tourists. Whether you're looking for art, culture, history, or food, Ams has something for you. I am a fan of this place and cannot stop recommending you to go. When you plan your next trip, make sure you give our insurance post a read to find your best option.